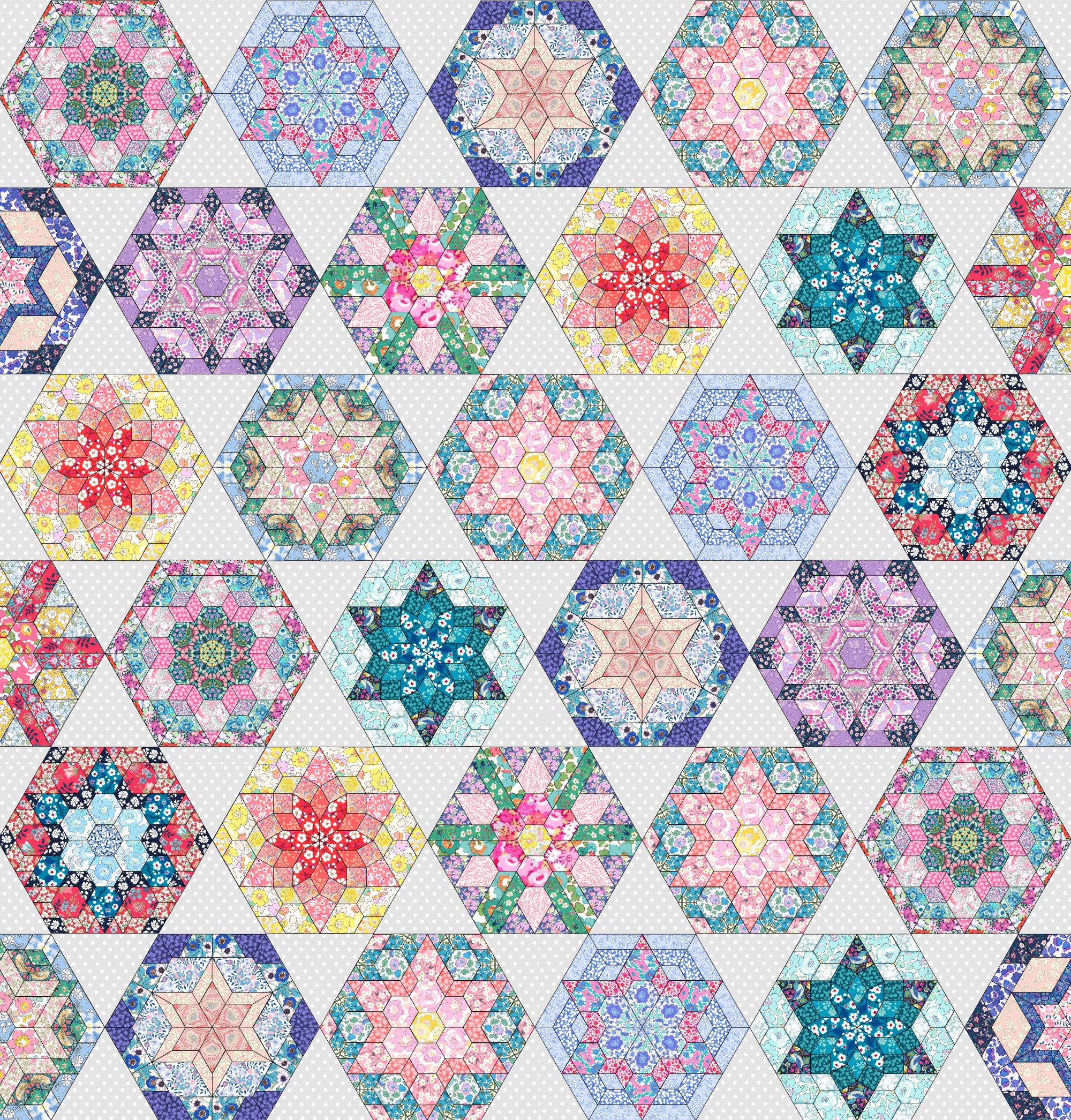 P E M B E R L E Y    E P P   B O M
Today is the day! We launch the new Block of the Month called Pemberley.
We thought a little Q&A interview would be fun. So here goes …
Where did the idea of a collaboration come from?

Martina, Ava and Neve: The idea popped into my head one day when I saw DuckaDilly Fabrics cabin logs on instagram and new right away I wanted to collaborate with Lesley! Her eye for colour is A M A Z I N G
Lesley, DuckaDilly: Last Summer Martina reached out about collaborating on a BOM. We hadn't worked together before, and I loved the idea of a collaboration. And we both love EPP, so designing a quilt was clearly going to be a lot of fun!
How did the design process work between you?

M:  I proposed an idea to Florence from Flossie Teacakes and Lesley – I thought perhaps it was a little crazy – and turns out it wasn't so cray cray Lesley loved the initial idea and some designs I had come up with and just built it up from there
L: Martina approached me with the design concept and some initial blocks, and we went from there! We incorporated two of Florence's (Flossie Teacakes) blocks with her approval, and we designed four more blocks to include. We loved how the final design looked like a stained glass window.
In a world where 'spark joy' is the new catch phrase, where do you find joy? What sparks your creativity?

M: Colour! Colour sparks my creativity and shapes. I am such a visual being that I could be stuck traffic and see interesting shapes in everyday structures and want to escape and design.
L: I find so much joy working with my hands! Whether sewing, knitting, gardening, or learning to needle punch, I am always busy working on something. And I think the thing that sparks my creativity the most is the challenge of trying something new.
You obviously love Jane Austin and Pride and Prejudice, where did that inspiration connect with the design and blocks?

L:  Martina and I had discussed naming the design after a location or building in England. And after some brain storming of both real and fictional locations, the obvious choice was Pemberley! And then naming the blocks after female characters in the book happened naturally. I just wish we could have included more characters!
But, how do Billilla and Pyegreave fit in? Don't remember them in the book!

L: These two blocks are from Florence! We kept her original names, so they aren't from Pride and Prejudice. You can read more about the names of her blocks from her new book, Flossie Teacakes' Guide to English Paper Piecing.
Sign ups are open until the end of May. Clink on the link here for more details